Key events
42 min: If anyone watched the Chelsea Liverpool game last weekend, that goal was similar to the one Liverpool scored. Chelsea can be weak at the back, it seems a lack of communication opens them up.
40 min: Paris won a corner as a shot deflects off of Carter. Thiney takes it long this time and Greboval heads it home – it has been given to her rather than Carter.
GOAL! Chelsea 1-1 Paris FC (Greboval, 38′)
A huge moment and a great header!
38 min: Carter does really well to track back and beat Mateo to the ball as they looked to strike. Paris continue in their fight for an equaliser, Soyer hits the deck and stays down for a while but is soon back to her feet.
36 min: Cuthbert takes the corner and it's a good delivery, it's cleared twice but Chelsea remain in possession. Charles pops a cross in and Nnadozie collects, she almost spills but eventually she controls.
34 min: Kerr looked to be in once again after a great ball through but Paris defend well to muscle her off the ball. Chelsea are looking lively after their opener and Kaneryd should have scored! It was a beautiful run but Nnadozie does superbly to save! Chelsea corner to come.
32 min: Paris FC lost last week 2-1 to Hacken who only had two shots on target after dominating possession and the same thing is happening here. That was Chelsea's second or third punt at goal after Paris looking the brighter.
31 min: The set piece is taken by Paris and picked up by Dufour but the offside flag is raised, Chelsea then counter – James puts in a beauty of a ball and Kerr finishes the move.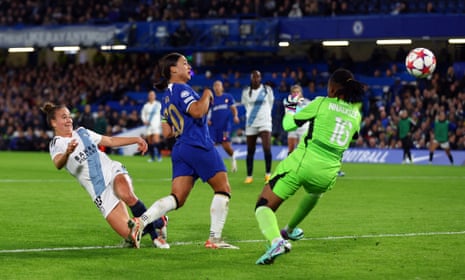 GOAL! Chelsea 1-0 Paris FC (Kerr, 31′)
KERR!
30 min: Chelsea looked clear there but Paris recover well, the hosts are on the hunt still with Charles making a run but Paris manage to defend once again. Buchanan then gives away a free kick and the Chelsea defender gets a yellow card for the foul on Bourdieu.
28 min: A lovely turn from Cuthbert but her long pass has too much on it. It's a strong performance from the visitors so far, Sissoko in particular at the back is having a great shift.
26 min: The game has slowed down with the midfield battle still being won by Paris.
24 min: Sissoko reads a play really well and beats James to the ball to close down an attack. here come Paris on the counter but a heavy touch is collected by Buchanan.
22 min: Chelsea are almost in there but Paris' defence holds strong, the hosts are most definitely growing into this. A lovely ball came to James but her shot is really poor, it seemed to catch the wrong part of her boot as it goes well wide.
20 min: Paris are doing really well in the midfield to crowd Chelsea out, every time the hosts try and get in their free flowing attack they are crowded out. It's like Chelsea are hearing my thoughts as Fleming cuts out the midfield with a huge long kick but Kerr is dispossessed.
18 min: Paris FC have another free kick, Chelsea need to limit the chances they are giving away at the moment. They take the set piece but Chelsea manage to clear but the visitors come again, Berger coming to the rescue once more.
16 min: Paris looked off to the races again but this time Mateo is offside, she is hungry to be in the action this evening!
14 min: Mateo thought she had a great line but the referee has pulled it back for a free kick for Paris, she looks fuming as she would have had a great chance to open the scoring. Paris take the free kick and they work it into the box and Bourdieu takes a shot but Berger saves.
12 min: Paris win a free kick from Cuthbert, they take it long and it's a great delivery. Kerr clears but Paris are still in possession, they work it to the box again but Carter has a boot in there to clear. Mateo gets back in the box and Charles clips her, I think she could have appealed and won a penalty there but she keeps running – eventually Chelsea clear. Impressive play from the visitors.
10 min: James puts in a phenomenal ball to Fleming on the edge of the box, it was beautifully weighted. Fleming passes to Kaneryd who takes a punt but Nnadozie collects.
8 min: Momentum hasn't found either team so far, both are being quite timid on the ball – a lot of play back to both keepers. Charles is fouled by Thiney and Chelsea take the free kick quickly but Paris manage to clear. The visitors manage to get into the box, Mateo claims for a penalty after contact from Buchanan but nothing is given.
6 min: Cuthbert makes a great tackle to halt a break from Paris, the counter is something Chelsea need to keep an eye on this evening.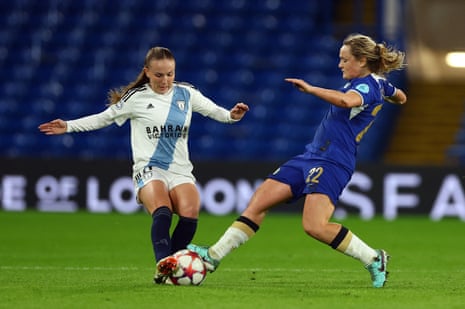 4 min: Possession is exchanging hands in these early stages, both teams finding their feet. James is found and she connects well with Cuthbert, she passes to Charles who crosses but Nnadozie collects.
2 min: James, who scored a hat-trick against Liverpool last weekend, has won a free kick early on in Chelsea's half. The Blues take it quickly but they are building from deep, Carter pops it upfield but it has too much on it.
Kick-off! Chelsea 0-0 Paris FC
So here we go! Can Chelsea keep their unbeaten run this season intact? Or can Paris FC continue their run of upsets in the competition? We will soon find out.
The players are out at Stamford Bridge and the encounter is about to begin. What a match this should be!
Have you been reading our women's football newsletter, Moving the Goalposts? The latest edition sees Jess King speak about her experiences in the sport, have a read:
Here is what Chelsea have said about capping the amount of fans at the game this evening: "We do appreciate that midweek evening matches can be challenging for some fans to attend, and in order to maintain the club's commitment to the sustainable growth of women's football, Stamford Bridge will have a reduced seating capacity of 5,000 for Chelsea v Paris FC. This decision ensures the match is financially sustainable and allows us to open our stands in a way that creates the best atmosphere and experience for supporters. Depending on sales forecast for further group stage fixtures, this cap may be removed and will be communicated to ticketholders accordingly."
Hacken have pulled off a comeback and beaten Real Madrid 2-1, while Bayern have closed out their 1-0 win over PSG in the earlier kick-offs.
I didn't delve into snack chat yesterday so I thought I would bring it into today's live, I have chosen a solid option with some biscuits. What is your snack of choice? Email me and let me know!
Blues boss Emma Hayes speaks highly of her players and one star who has had praise in the media this week is Niamh Charles, Hayes said: "I think she's been in this place for quite some time – maybe February and March of last year. I don't think she's looked back since then. I always intend to get the best out of her strengths but she's in a great place and her form is all coming together. She deserves a lot of credit for the work she's done. It's all been Niamh. She's a top professional and she's a role model for many to look up to with what you can do with hard work and application."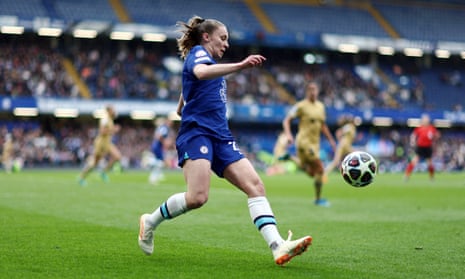 Chelsea striker Sam Kerr – who announced her engagement to USWNT star Kristie Mewis this week – has said the team are not underestimating their opposition: "They are riding a wave at the moment – that can be dangerous. You saw with the results against Wolfsburg and Arsenal – to beat two really good teams over both legs – it shows they are an amazing team. You can't take any team lightly in the Champions League."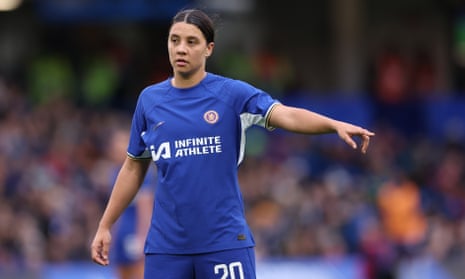 Here is a round-up of the WCL action that took place yesterday, including a comeback from defending champions Barcelona:
There are three other WCL matches happening today. Two have already kicked off with Bayern Munich leading PSG 1-0 and Hacken and Real Madrid drawing 1-1. The other match, Roma v Ajax, kicks off at 8pm GMT. I will keep you up to date with those scores as the evening unfolds.
Paris FC manager Sandrine Soubeyrand has named Alsu Abdullina in her matchday squad, the defender is currently on loan to the French club from Chelsea and starts from the bench.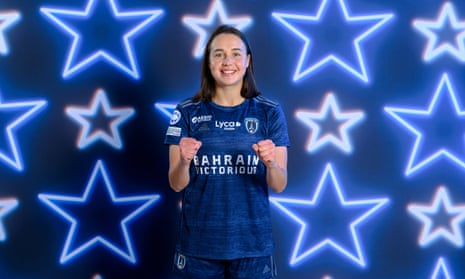 The team news is in! Chelsea will not have captain Millie Bright as she does not make the matchday squad. Sam Kerr will have the skipper duties for the evening.
Chelsea: Berger, Nusken, Carter, James, Lawrence, Fleming, Kaneryd, Kerr, Charles, Cuthbert, Buchanan
Paris FC, meanwhile, have named a strong team including last week's goalscorer Julie Dufour.
Paris FC: Nnadozie, Bogaert, Greboval, Sissoko, Soyer, Corboz, Korosec, Thiney, Dufour, Mateo, Bourdieu
Hello and welcome back to the Women's Champions League! Tonight we have a juicy fixture between Chelsea and Paris FC.
The French club have already knocked two previous winners out of the tournament. In the qualifying rounds they faced Arsenal and Wolfsburg, beating both to reach the group stage. However, they have shown they are beatable after falling to a 2-1 defeat at the hands of Hacken in the first round.
Chelsea, meanwhile, recorded a draw in their first WCL group stage match against Real Madrid. The result was contentious as Real scored a controversial penalty and Chelsea had their final goal chalked off for offside, the WSL holders will be looking for their first European win of the season tonight.
The Blues will be doing so at Stanford Bridge, albeit in front of a limited crowd. Chelsea only put 5,000 tickets on sale – more on this story shortly.
Team news will be dropping soon so stay tuned for updates. The biggest story to watch out for is if Chelsea captain Millie Bright is involved, manager Emma Hayes had said she is in doubt for the game in the build-up. Kick-off coming at 8pm GMT.