Sometimes, this potent symbol marks the death of a great person. Sometimes it's about events we'd rather not recall. But never should we be indifferent.
Get the latest from Bruce Deachman straight to your inbox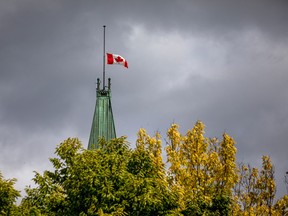 Article content
I'm worried that I've developed "Flagging Half-Mast Indifference." And I'm concerned that if it's happening to me, it's probably happening to others.
One of FHMI's symptoms presented itself a couple of Thursdays ago when, tootling along on Colonel By Drive, I noticed that the flags at the east end of Confederation Park were at half-mast. Later that day, I spied the red-and-white only halfway up the West Block flagpole. I briefly wondered why, but, absent a clear answer, quickly turned my mind to other matters.
Article content
This wasn't the first time I'd experienced signs of FHMI. It's increasingly common that I'll see a flag at half-mast, do a quick mental inventory of recent events to see if there's a match, and If there isn't, allow a purposeful incuriosity to get the best of me.
It wasn't always like this. I used to routinely know why flags were lowered, and on those rare occasions when I didn't, the answers soon revealed themselves, usually within a day and typically via a news outlet or friend.
I suspect that was true of all of us. The reasons were generally pretty obvious. Someone important had died: the Queen, for example (admittedly only once in my lifetime), or a former prime minister (five so far on my watch) or governor general (eight). The death of a world figure, such as Nelson Mandela or Margaret Thatcher, brought the flag down, as did the passing of beloved Canadians such as The Tragically Hip's Gord Downie, artist Alex Colville, and Ottawa-Vanier MP Mauril Bélanger. And Ottawa-born Senator and former Clerk of the Privy Council Ian Shugart, whose death in October was responsible for the flag-lowering that caught my recent attention.
Article content
There were also always a small number of annual memorializations. Remembrance Day, of course, for longer than I've been alive. More were added. Workers' Mourning Day and the National Day of Remembrance and Action on Violence Against Women were first officially observed in 1991. Vimy Ridge Day and the Police and Peace Officers' National Memorial Day followed a dozen years later, while the National Day of Remembrance for Victims of Terrorism came two years after those. Since then, Firefighters' National Memorial Day, Indigenous Veterans Day and the National Day for Truth and Reconciliation have joined the ranks. In 2023, flags in Ottawa and/or Gatineau have been lowered 10 times for such commemorations, with the Dec. 6 one for violence against women yet to come. A decade ago, there were only six such occasions.
Then there are the half-mastings that accompany singular tragedies. These come at a great emotional cost. When I see a flag at half-mast and don't know the reason behind it, it's increasingly easy for me to imagine it's because of some terrible and senseless violence. Tamping down my curiosity is a check against the anticipated anxiety and sense of loss.
Article content
There have been a half dozen of those sorts of half-mastings in Ottawa this year, including for the horrific events in the Middle East, the shooting death outside Ottawa of OPP Sgt. Eric Mueller, and a pair of vehicular murder sprees in Quebec, one when a bus drove into a Laval daycare, and another on a street in Amqui, Que.
It's not reasonable to not lower the flag for these. Still, I do wonder if there's a point at which the sight of a lowered flag will become so ubiquitous that it loses all meaning. But ignoring the lowered flags isn't the answer, either. Instead, we — government officials, educators and the media alike — can surely do a better job of telling the public why the flags are down. If we can offer traffic and weather reports routinely, why not a regular "flag" report? Shouldn't everyone want to know?
Seeing flags at half-mast may remind us of events we'd rather not think about, but putting our heads in the sand won't accomplish anything. For just as we commemorate those who in life made our society better — people like Downie, Colville, Bélanger and Shugart — we need to acknowledge the deaths that remind us of how far we still have to go.