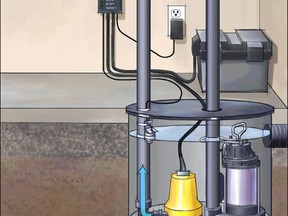 Reviews and recommendations are unbiased and products are independently selected. Postmedia may earn an affiliate commission from purchases made through links on this page.
Article content
Q Should I leave the bottom of my basement sump open or create a concrete bottom in the sump? Should I direct the weeping tile into the sump? We really need a good sump pump at wet times of the year, so I want to get it right.
Article content
A Some basements definitely need a sump pump so you're wise to get the details correct. As for the bottom of your sump hole, a layer of clean, 3/4-inch gravel is fine. You want to make it as easy as possible for water under the floor to flow into the sump so it can be removed by the pump. And if it's not too much trouble, directing the weeping tile into the sump is even better.
All this said, if you rely on a sump pump to stop your finished basement from flooding, you really need more than just one pump powered by grid power. Pumps can fail, and power failures can go on for a long time when storms dump a lot of rain.
With these realities in mind, I recommend a second pump that doesn't need grid power. One of the most common is a pump with battery backup. Grid power keeps the automotive-style battery charged, while the battery can operate the pump for hours if the power goes off. If your sump is large enough you can put both pumps in the same hole. If not, make another sump somewhere. Adjust the battery pump so it only comes on if water rises higher than the level that causes the grid-powered pump to kick in.
Article content
———–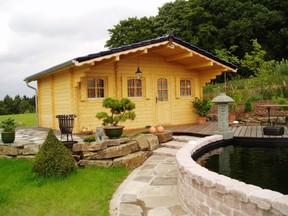 Economical summer home
Q What's the most economical way to build a nice summer cottage? My husband and I have $350k to spend on a building for a property we just bought.
A The cost of the actual house is just part of what you have in mind. You need to make sure you have enough funds for permits, a survey, clearing trees, having a septic system installed, a well drilled and bringing some power (if you plan to be on the grid). Then there's the issue of minimum house size that many municipalities require. Typically this is about 750 square feet, but it can be somewhat smaller, too.
Built-on-site construction or a modular home might cost $250 to $300 per square foot, which means that a 1,000 square foot place would probably use up more of your capital than you can afford, given all the other costs. That said, there's an alternative.
Article content
I know of one option where the building itself costs between $60 and $80 per square foot. It comes as a kit, with walls made of interlocking "logs" milled to fit together. As they're designed, they don't have enough insulation to qualify as a full-time home, but this won't matter for a cottage. Insulation can be added to bring the structure up to code for four-season use. I've dealt with the people at Lumberjack log homes (https://www.lumberjacklog.ca) and they're great.
——–
Finishing a new deck
Q Can I finish my new deck when it gets reliably warm? Most of the boards test at 15 per cent moisture content (I bought a cheap moisture meter), but we had to replace a few boards when previous ones got stained from some sunscreen last fall.
A If the new boards are in the 12 to 18 per cent moisture content range, then that's one green light to go ahead, but there's another.
Outdoor wood finishes last much longer if they're applied to sanded wood. Go over your deck with an 80-grit abrasive in a random orbit sander, blow off all the dust (a leaf blower works well), then apply a finish.
Steve Maxwell is a big fan of well-finished outdoor wood. Visit him online at baileylineroad.com/deck-stain for detail deck finishing advice, including stain recommendations based on his 30+ years of testing.